Where are we with projects?:
Three Counties Church: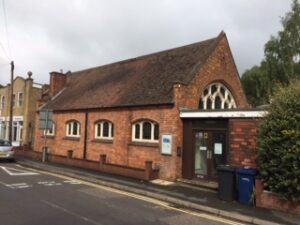 Our very first project, in 2017, was a scheme to convert the 3 Counties Church in Kings Road into affordable apartments. The building had not been used as a centre for worship for several years since the church had moved to new premises on the Liphook Road, and latterly only housed an office. The church leaders were amenable to the idea of selling us the freehold at less than market price – as they felt the social benefit of much-needed affordable housing made up for the monetary difference. We were granted access to the building to explore options for its conversion – and received useful advice from local experts on how around four or five flats of varying size could be fashioned economically from the space without spoiling its appearance. Regrettably, when presented with the proposition, the Charities Commission insisted that the building must be sold at maximum market value – and we were priced out. We are forever grateful to local experts who helped us with the project – notable the quantity surveyor Mike Gander, the architectural agency WS Design and Chris Cook of Axis Architecture (in Wickham). 
Hammer football field: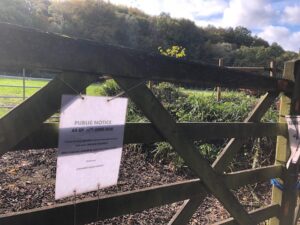 In 2018, we met members of Lynchmere Parish Council, on an informal basis, to discuss the possibility of acquiring the disused football field just off Hammer Lane. There was a covenant on the land precluding its use for anything other than sporting amenity, but for some time no one had sought to take up that option. So here was a fallow field, a community asset going to waste and requiring oversight and maintenance. The idea emerged to explore its potential for affordable housing for appropriate people from both the parish itself and the wider community. Meetings took place with representatives from Community Led Housing in Chichester and the South Downs National Park Authority, but, sadly, planning officers ultimately rejected the plan on the basis of its perceived remoteness from the neighbouring settlement.   
Housing Needs Survey:
We have put hard work into some foundations – not diggers and concrete yet, but now we do have solid facts.  We have real data about what kind of housing is needed in our area and who needs it.
Our "Housing Needs Survey" was professional, thorough and hard work – a seemingly tireless bunch of volunteers pounded the pavements and delivered thousands and thousands of leaflets. We thank all those who took part or helped – especially David Cowan and Louise Williams of Surrey Community Action.
The Haslemere CLT is the main "customer" of the report – the results will direct our choice of projects and the design of them – but we are happy to share what the survey found with a wider audience.
Summary: if you want a quick read, here is a summary: Introduction to Housing Needs Survey
Full Report:  Housing Need Survey Report (note that a few comments written by some of those who filled in the survey have been removed from the appendix because they were detailed and specific and it may have been possible to identify the author)